About Us ...
Siam Orchid Culture Co.,Ltd.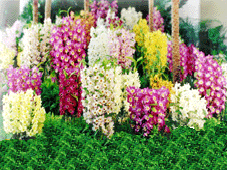 The Siam Orchid Culture Co., Ltd. is situated at 135/3 Moo. 12 Tambon Cheang Doi Ampher Doisaket Chiang Mai by the former, Mr. Nikorn Kamyai. The aim of the company is to produce and distribute the orchid: Dendrobium Nobile Hybrid. The company, now, owns the 8-2-0-rai orchid farm.
In 1983, Mr. Nikorn, in cooperation with Mr. Jiro Yamamoto, brought a new hybrid which was prodeced by Mr. Jiro Yamamoto himself to try the new production experiments in Thailand. Khun Nikorn has been in charge of production management, which is emphasised on the R&D especially the tissue culture in the laboratory. Thus, there are a number of new hybrids as the outcome. The famoue one is the Nobile hybrid, which was copied right to only Mr. Jiro Yamamoto. This innovation has been called "Yamamoto Dendrobium Type", as a result. However, in 1993, Khun Nikorn together with his friends, established the Chiang Mai Business Center Co., Ltd.; and was registred in 1994. The company has fulfilled the research and developmet of such orchid as many as 1,500 hybrids.
»»»»»»»»»»»»»»»»»»»»»»»»»»»